When you send out a transaction and add one or more recipients, you can set additional options per recipient. You can opt for a second factor authentication. Click on the gear behind the recipient if you want to opt for a second factor verification.

Under "External Authentication" you can apply an external authentication method. An example of an external authentication is iDIN. iDIN is a Dutch online identification tool developed by Dutch banks. You can identify someone by means of iDIN. You use the login method of your own bank. The iD stands for Identify and iN stands for Login.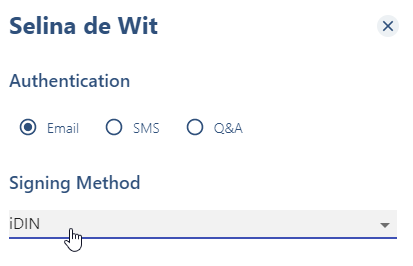 The login screen of iDIN appears when a recipient wants to put his or her signature. The recipient can therefore view the documents. However, the recipient cannot complete the transaction. To do this, he or she must first go through the iDIN verification.
This article explains which steps you need to take to be able to sign with iDIN. For more information about the possibilities of iDIN, please contact us. This can be done via support@validsign.eu or 085 303 36 76.