Login
To submit a document for signature, you must first log in to the ValidSign environment. Go to https://my.validsign.nl. Here you enter the login details that you have received in your e-mail.

If you have successfully logged in, you will arrive at the dashboard.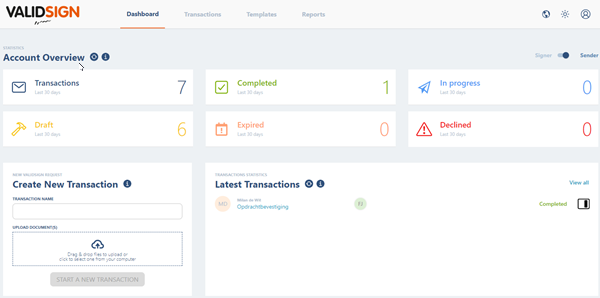 Create new transaction

To create a new transaction, go to 'Create new transaction' at the bottom left of your dashboard.
Give the new transaction a transaction name here and then add your documents.
After that, click on "Start a new transaction".

You will arrive at the screen above. Here you can add your document(s) and recipient(s).
You can add the recipient(s) by entering a name and e-mail address. The "Title" and "Company" fields are optional.
When everything has been added, click on "continue" and you will arrive at the designer page.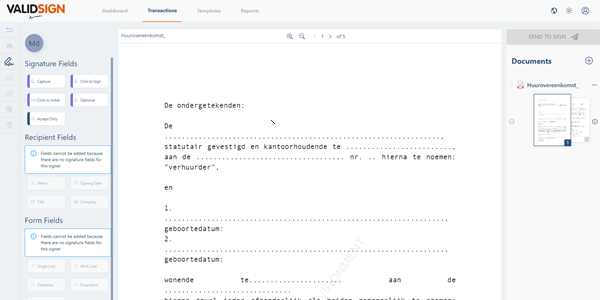 Here you can scroll through your document and add the signature fields (and optionally text boxes, check boxes, etc.).
Adding the signature fields is very simple. This can be done by placing your mouse on "Signature" in the left menu. Hold the icon and drag the field to where you want to place the signature field.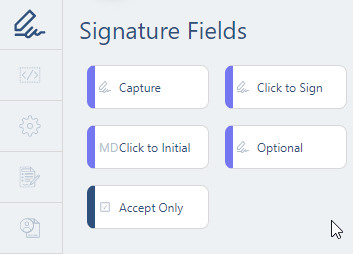 On the basis of the colored lines you can see whether you have put your signature correctly.
If you place two signatures, they can easily be placed at the same height.
In addition, you can choose to add, for example, your initials or the date of signature by dragging these boxes from the left menu. However, this is not mandatory.
Once your signature field has been added, you can send the document by clicking "Send to Sign" in the top right corner.
Your document has now been sent for signature!
Do you have questions about sending a document via ValidSign? Please contact us. This can be done via support@validsign.eu or 085 303 36 76.