You can automatically send reminders to signers. You can set this when creating a transaction. As a result, signers receive a reminder at times of your choice if they haven't signed yet. To configure this, go through the following steps:
1. When you have created a transaction, click on 'Settings' at the bottom of the page
2. A section will now appear where you can set various functions for the transaction. Click 'Configure' under the 'Reminder schedule' heading to set up the automatic reminders.

3. The image below shows the screen which will appear. You can decide how often you want to send the reminders. First you indicate after how many days you can send the first reminder. Next, you can determine the interval and the maximum number of reminders.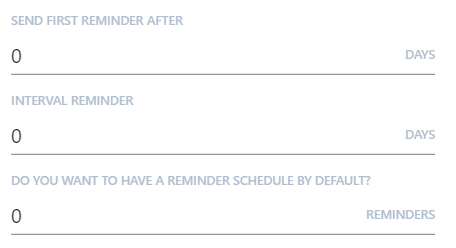 4. Close by clicking 'Save' at the bottom right. The reminder schedule is now configured. Reminders are only sent to those who have yet to sign.
Automatic reminder for approaching due date
In addition to a reminder schedule, an automatic reminder can also be sent when the due date is approaching. If you give an expiry date to the transaction, a reminder is automatically sent 4 days before this date to all participants of the transaction who have to sign.
When the expiry date has been reached, it is placed in the 'draft phase' and is therefore no longer active. If you want to reactivate that transaction, you can adjust the expiry date to a later moment and resend the transaction.
Have questions about setting up an automatic reminder schedule? Please contact us. This can be done via support@validsign.eu or 085 303 36 76.