Personal preferences
Here you can set some personal preferences for your account. For example, under account type, you can set whether your dashboard should start on the sender or signer role by default when logging in.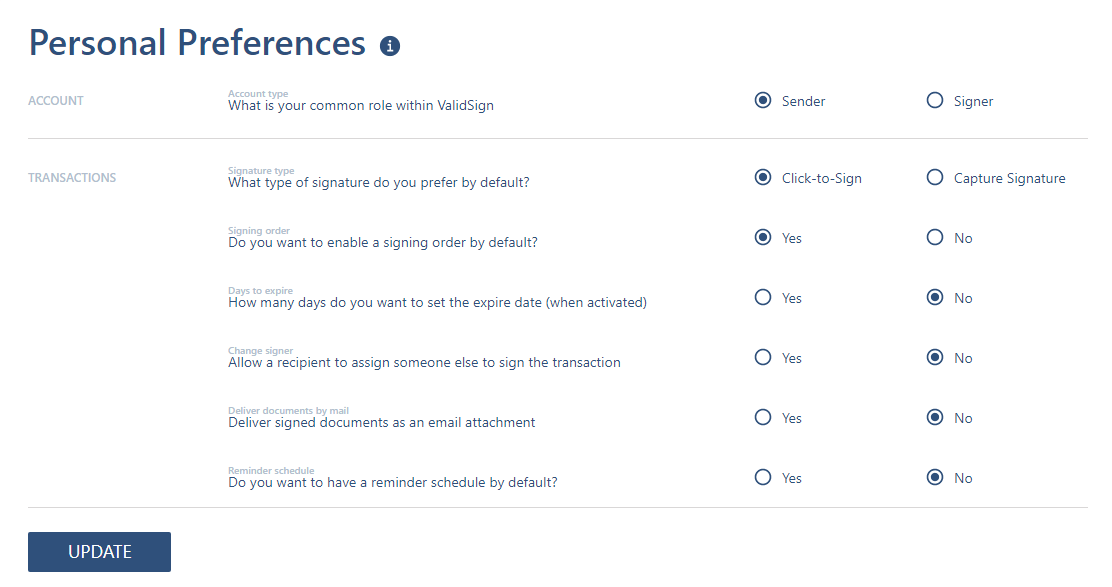 Signature type
At Signature type, you can indicate which type of signature field you want to work with by default when setting up documents for sending.
Signing order
If you work with multiple recipients for a transaction, you can set here whether the signing order should be enabled or not.
Days to expire
If you want to send transactions with an expiry date, you can set here how many days after sending the transaction, the expiry date should be.
Change signer
Here, you can set that it is possible for recipients of transactions to forward the signature to another recipient.
Deliver documents by mail
When a transaction is completed, all recipients receive an email with a link to download the signed documents. You can also choose to have the signed documents sent as an attachment by default.
Reminder schedule
Here, you can set a default reminder schedule that you can use when creating a transaction.

For more information about the other functionalities available under my account, read the article my account.
Do you have questions about personal preferences? Contact us. This can be done via support@validsign.eu or 085 303 36 76.